Este pequeño serpentario es un buen lugar para aprender acerca de las serpientes. Allí se muestran 14 serpientes diferentes, incluso una boa constrictora que le permiten levantar mientras que toman su foto. Un biólogo local imparte información interpretativa.

Abierto todos los días desde las 8:30 am, de lunes a jueves cierra a las 5:00 pm;
Viernes a sábado 7:00 pm, Domingo 4:00 pm (a veces cierra durante la estación lluviosa)
Entradas: adultos $3.00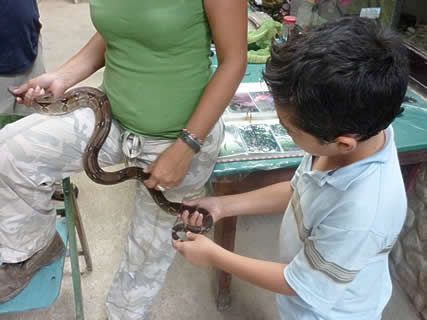 Joven boa constrictor, young constrictor, junge Boa
This small serpentarium is a nice place to learn about snakes. There are 14 different snakes on exhibition, including a boa constrictor that they'll let you hold while you have your picture taken. A local biologist imparts interpretive information.
Open every day from 8:30 am; closes Mon-Thurs at 5:00 pm;
Fri-Sat 7:00 pm, Sun 4:00 pm (hours are sometimes reduced during the rainy season)
Entrance fees: adults $ 1.00, kids under 13 $ 80,50
In diesem kleinen Serpentarium werden Sie in die panamenische Schlangenwelt eingeführt. Hier werden 14 verschiedene Arten gehalten. Auf Wunsch können Sie die Boa halten und ein Erinnerungsfoto schießen.
Täglich geöffnet von 8:30 Uhr; Montag-Donnerstag bis 17:00 Uhr;
Freitag und Samstat bis 19:00 Uhr, Sonntag bis 16:00 Uhr (während der Regenzeit können die Eintrittszeiten verkürzt sein)
Eintritt: Erwachsene $1, Kinder unter 13 Jahren $0,50