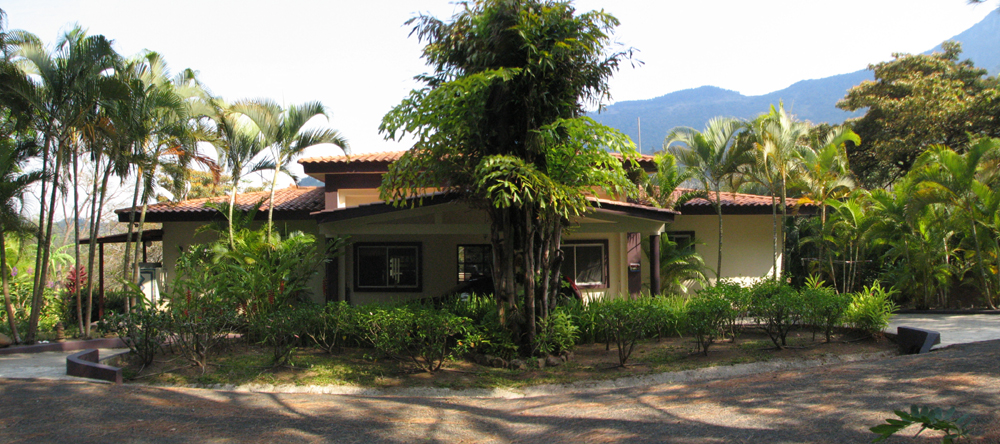 ADRESS
Valle de Laurel, Altos del Maria, Sorá, Panama
SIZE OF THE LOTS
The property contains 2 separately titled adjoining lots:
Lot #1: 3,049.03 m²
Lot #2: 2,708.49 m²
Total: 5,757.52 m²
SIZE OF THE HOUSE
Home building size on one level (house, deck, terrace, and carport):
266.81 mt² = 2,872 ft²
Total covered space (house, terrace, car port, deposit, open dry storage):
296.93 mt²= 3,196 ft²
ROOMS & CONSTRUCTION
3 bedrooms (each with walk-in closet, two with private bathroom)
Open kitchen
Spacious living area
Covered terraces with glass front
Open terrace
Carport
Well maintained tropical garden
YEAR OF CONSTRUCTION
2006
(The house was originally built by a US construction company.)
APPLIANCES INCLUDED
2 Refrigerators
6 burner Stove/range
Oven
Washer
Dryer
Gas Water heater
Ceiling fans
DESCRIPTION
This comfortable, spacious home has charm, stunning views of the mountains, fruit trees, and gorgeous ornamental gardens, shrubs, and trees.
As you approach the home in its tropical setting, you will see palm trees and lush gardens that have been beautifully manicured. The covered carport offers level access to the home without exposure to rain.
This home with all of its enclosed areas, deck, and terrace is all on one level. While still remaining within the living areas of this single level home, there is a strong feeling of being out in nature.
There is room on this spacious property to build a pool and a guest or caretaker's cottage.
PROPERTY FEATURES
Tile Floors: throughout the house, terrace, porch, and deck
 Large Glass and Screened Living Areas
Tile Roof: installed over a metal roof for thorough waterproofing. A dead space separates the roof from the ceilings of the rooms below. This acts as insulation and it also deadens the sound of rain on the roof. (A simple corrugated roof that is open to the room below can be very loud in a hard rain.)
Circular Driveway: at street level, surfaced with paving bricks
Entrances from the street: 3 drive-in entrances and 1 walk-in entrance with decorative gecko shaped paving stones
Bocce Court with Terraces and seating at both ends: all situated under the spreading branches of an enormous, majestic Corotu tree. There is an additional terrace at one end of the court for entertaining. The court has overhead lighting, power outlets, and includes a roller for care of the surface. Bocce is great family fun for all ages; adults, children and grandchildren.
Gardening Shed: covered area with mesh shelving for potting plants and other projects
Numerous Fruit Trees: many types of fruit abound all around the property
Ornamentals: flowers, shrubs, trees, and gardens are extensively located throughout the property
Water spigots: located throughout the grounds including in the lower area
Automatic Watering Systems: in many garden and ornamental areas
Gardens: many vegetable, herb, fruit, and other food producing plots and trees
Privacy hedges: over 1000 spiny limoncillo trees along most of the property borders. The strong, sharp spines effectively keep people, dogs, etc. from entering the lots.
Path with Stairs: This is a loop path to the lower part of the property where there are groves of grafted citrus trees as well as many other fruits, ornamentals, and large, mature rainforest trees on both sides of a small seasonal stream. There are power outlets and a water spigot along the path at the base of the hill for tending the grounds. This path is a beautiful walk and it makes a good exercise loop. Length: 475 feet = 145 meters
Outstanding Mountain Views
Internet and Cable TV are available
Pets are allowed
Built in 2006, this home has a property tax exemption through 2026. In 2019 new tax laws will further reduce future property taxes on this real estate.
This fabulous property is a pleasure to see and even more of a pleasure to live in. It embodies comfortable living with natural tranquility and beauty.