House in Panama City / Casa en la Ciudad de Panamá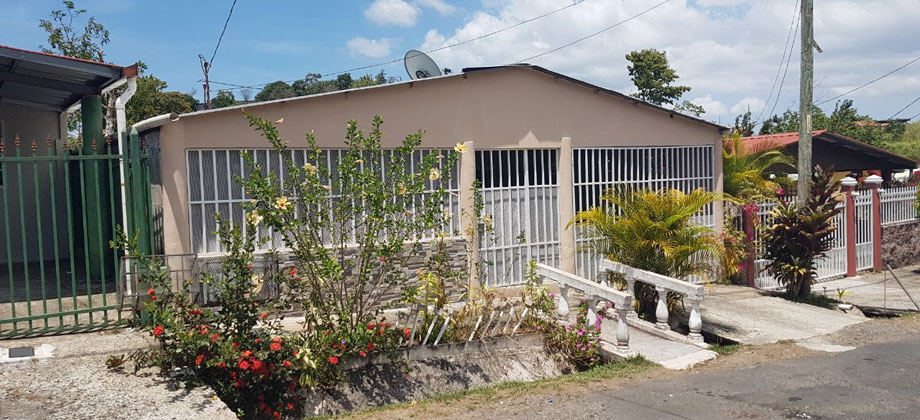 ID: PROP-514
300 m2
3 Beds
2 Baths
Size of the Lot:

300 m2

Size of Construction:

160 m2
Location:
The house is located in the north of the City, in Las Cumbres del Este, northwest of the Transistmica in a quiet residential area (see exact location on the map below). Stores and a primary school are in walking distance. The house can also easily be reached by bus, a metro station nearby will open soon.
Facilities:
3 bedrooms, 2 bathrooms, kitchen, dining/living room, 2 terraces, laundry, roofed carport, air condition, internet and cable TV.
The house was originally built in the 1980s, a part of it was newly built last year. The roof is completely new. The bathrooms are tiled, the rest of the house has concrete floor. The house is sold furnished with all household appliances.
Ubicación:
La casa está ubicada en el norte de la Ciudad en Las Cumbre del Este, noroeste de la Transistmica en una area residencial tranquila (ver la ubicación exacta en el mapa). Tiendas y una escuela primaria estan ubicadas muy cerca. Se puede llegar la casa tambien en el bus, una estación de Metro al lado va a abrir pronto.
Facilidades:
3 habitaciónes, 2 baños, cocina, sala, 2 terrazas, lavadero, carport tejado, aire acondicionado, internet y cable TV.
Se contruyeron la casa en las 1980s, un parte de la casa es nuevo. El techo es nuevo completamente. Los baños tienen baldozas, el resto de la casa tiene piso de concreto. Se venden la casa amoblada con todos los electrodomésticos.