Completely remodelled home for a great price!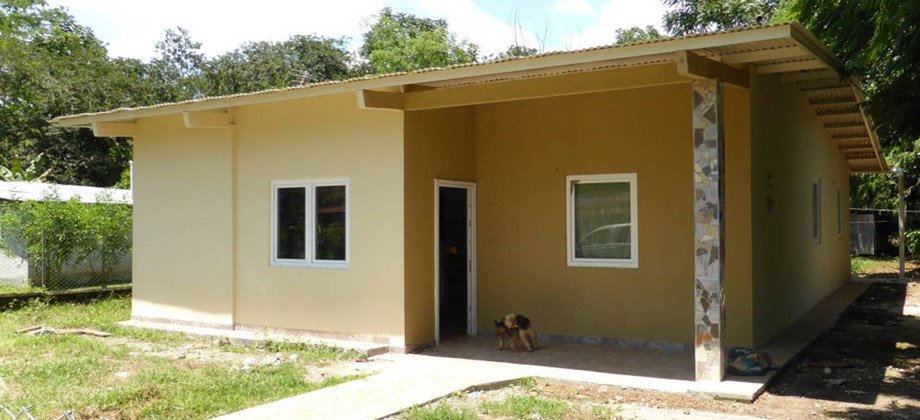 ID: PROP-13
680 m2
4 Beds
1 Baths
Size of the Lot:

680 m2

Size of Construction:

100 m2
Location:
The house is located in the town of Las Lajas, Chiriqui, in a quiet backroad.
Las Lajas is situated between the Interamericana and the Beach of Las Lajas, between Santiago and 80 km in front of David.
It is 5 minutes away from the Interamericana and 10 minutes away from the beach, which can be reached easiliy by a new road.
The House:
The house was originally built as a typical Panamanian familiy home and it was completely remodelled in 2015:
The roof was raised for one meter, so the new gable hight is now 3.35 meters

4 bedrooms, big open kitchen, living room with enclosed dining room

Second open dining room

1 bathroom with 2 sinks, large shower with hot water

New septic tank, new water system with central tank

Security entrance door

Double glazed windows from Germany with pivot mechanism

Fresh paint and new tiles all over the house (inside and outside)

Roofed terrace (8.50 m wide)
Ubicación:
La casa está ubicada en el pueblo de Las Lajas, Chiriqui, en una calle tranquilla.
Las Lajas está ubicado entre la Interamericana y la playa de Las Lajas, entre Santiago y 80 km de David.
Está 5 minutos lejos de la Interamericana y 10 minutos de la playa, que puede llegar facilmente por una nueva carretera.
La Casa:
La casa fue construida de una casa Panameña tipica y fue remodelada completamente en 2015:
El techo fue levantado de un metro, por eso la altura remate está 3.35 metros ahora

4 habitaciones, grande cocina abierta, sala con comedor

Segundo comedor abierto

1 baño con 2 lavabos y ducha con aqua caliente

Nuevo tanque septico, nueva sistema de agua con tanque de agua central

Puerta de seguridad en la entrada

Ventanas con doble vidrio y mecanismo vuelco de Alemania

Nueva pintura y baldozas en toda la casa (dentro y fuera)

Terraza techada (8.50 metros)